Campingaz BBQ Master 4 Series EXS SBS 2000030707 (Only For Karachi)
Rs.187,000.00

Rs.187,000.00

Save Rs.8,000
---
---
This stylish BBQ easily delivers exceptional grill performance and perfect cooking results. The Master 4 Series Classic SBS gas barbecue combines unique features, including the innovative Even Temp technology for even heat distribution over the entire cooking surface and the versatile Culinary Modular system with which you can prepare a variety of dishes such as paella and pizza. The electronic InstaStart ignition guarantees effortless lighting and is integrated in the illuminated control buttons.



Thanks to the four very powerful stainless steel burners, combined with the new, double-walled stainless steel lid, you can grill to your heart's content throughout the year. You can rest assured that you have the ultimate barbecue performance within reach. The Master 4 Series Classic SBS is also equipped with the impressive Searing Boost Station (SBS) , an extra boost of intense heat that delivers that authentic grill stripes and flavor.



Use the side burner to prepare side dishes so that you can easily serve a full meal.



The grill and grill plate of enameled cast iron provide extra cooking convenience and great results. This is the best material to cook on; the cast iron conducts the heat more intensively and more evenly than other materials, while the enamel coating ensures easy cleaning.



The improved InstaClean® system , with a new finish, protects the removable barbecue parts so that they can be easily cleaned in the dishwasher after use.





10 year warranty on the Master Series stainless steel burners and stainless steel lid, as well as 5 year warranty on the cast iron grates.









Key features in one overview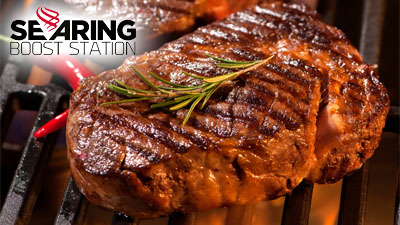 Campingaz® Searing Boost Station (SBS)
The Campingaz® Searing Boost Station (SBS) provides the intense heat that is needed to sear a steak in a matter of seconds and to provide nice grill stripes; provides an authentic grill taste without the risk of searing meat.
Because of the 
additional burner
 in the Campingaz Searing Boost Station, the enameled cast-iron grate absorbs the extreme heat and you can provide your meat with the classic grill stripes. Impress your guests with the new Searing Boost Station without compromising on taste and texture.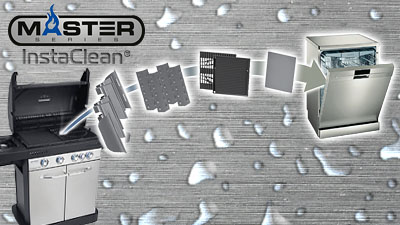 Campingaz Instaclean® System for Master Series
After extensive research, the unique Campingaz InstaClean® system has been further improved.
The InstaClean® burner housing of the new Master Series collection has a special finish that makes cleaning your barbecue even easier. 
The new finish of the removable parts minimizes the amount of grease and food residue that sticks to your barbecue and ensures that you can easily brush away any residues before you put everything in the dishwasher.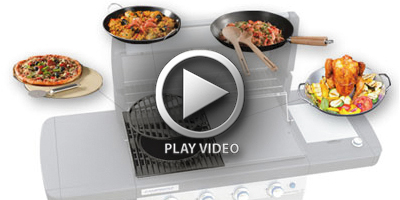 Culinary Modular system
Discover the diversity of cooking and grilling options with the Campingaz® Culinary Modular barbecue accessories.
Remove the inner ring from your cast iron grill rack and replace it with one of the handy, separately available, Campingaz® Culinary Modular barbecue accessories. Serve a fresh pizza, prepared on a real pizza stone. Or enjoy a delicious paella from a Spanish paella pan. If you love Asian stir-fry dishes, use the wok during your next barbecue. Prepare a perfectly grilled chicken with the poultry holder. Or maybe you just want to replace your grill grate with a piece of cast iron to prepare the perfect steak?
The Campingaz® Culinary Modular barbecue accessories offer you everything your Burgundian heart desires.
The Culinary Modular system can be found on the following models
(Culinary Modular barbecue accessories available separately): 
4 Series RBS EXS, 4 Series RBS LXS, 3 Series RBS L, 4 Series Cast Iron EXS, 3 Series Cast Iron EXS, 4 Series Classic LXS, 4 Series Classic LS Plus, 4 Series Woody LX, 3 Series Classic LS Plus, 3 Series Woody LX.
Available as an upgrade on the following models: 4 Series Classic LS, 4 Series Classic L, 4 Series Woody L, 3 Series Classic L, 3 Series Classic LS, 3 Series Woody L.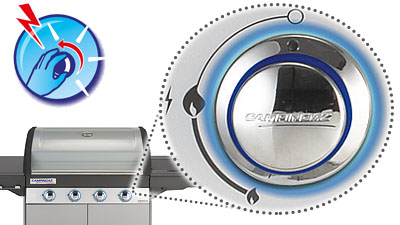 InstaStart® ignition for gas barbecues
This special electronic ignition is a handy push-and-turn system with spark specially designed for our gas barbecues. All you have to do is press and turn the knob to light the barbecue.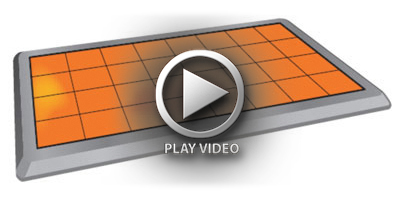 Even Temp® even heat distribution
Temperatures of 250 ° C and higher are recommended for a perfect grilling result


An even spread of this temperature over the entire cooking surface is very important - nothing is more annoying than half cooked food while the other half is still raw


The cooking surface of our 3 & 4 Series barbecues reaches a temperature of over 250 ° C, which means that the barbecue can be used more efficiently


Using the control buttons, the cook can determine which part of the barbecue is heated to the maximum and which part less
Stainless Steel Burner system
Prepare yourself for enjoyable and long-lasting barbecue sessions with the new strong and durable stainless steel burners!


Enjoy the exceptional results that you achieve with this smart burner system. 


From direct grilling to slow baking using indirect heat, anything is possible with this burner:
Even heat distribution over the cooking surface
Powerful heat for grilling and searing
Adjustable heat to even low temperatures that make indirect preparation possible
Durable material to guarantee a long delivery time for the burners


How does the Stainless-Steel-Burner system work?
Specially designed burners create V-shaped flames that are aimed at the grill and distribute the heat evenly over the cooking surface
The tube burners can also be set to small flames that create a lower temperature at which prolonged indirect grilling is possible
The newly designed burner tent, with protected ventilation openings, supports the even heat distribution and prevents flash fires
---
We Also Recommend
---